There are 108 active volcanoes in Japan. Japan Meteorological Agency (JMA) defines volcanoes that erupted in recent 10,000 years or have fumarolic activity as Active volcanoes. JMA is continuously monitoring volcanic activities of about 30 active volcanoes with seismic and visual observations and others;
Meakandake, Tokachidake, Tarumae, Kuttara, Usu, Esan, Hokkaido-Komagatake, Iwate, Akita-Komagadake, Azuma, Adatara, Bandai, Nasu, Niigata-Yakeyama, Kusatsu-Shirame, Asama, Ontake, Hakusan, Fuji, Izu-Tobu, Izu-Oshima, Miyakejima, Kuju, Aso, Unzen, Kirishima, Sakurajima, Satsuma-Iojima, Kuchinoerabujima, Suwanosejima.
The other volcanoes are surveyed regularly by JMA. If some abnormal phenomena are detected, temporal observation stations are installed and the data are monitored by JMA.

---
Volcano Observation by Japan Meteorological Agency
Recent volcanic eruptions in Japan (since 1900)
Current volcanic activity in Japan is introduced in http://hakone.eri.u-tokyo.ac.jp/vrc/erup/erup.html
---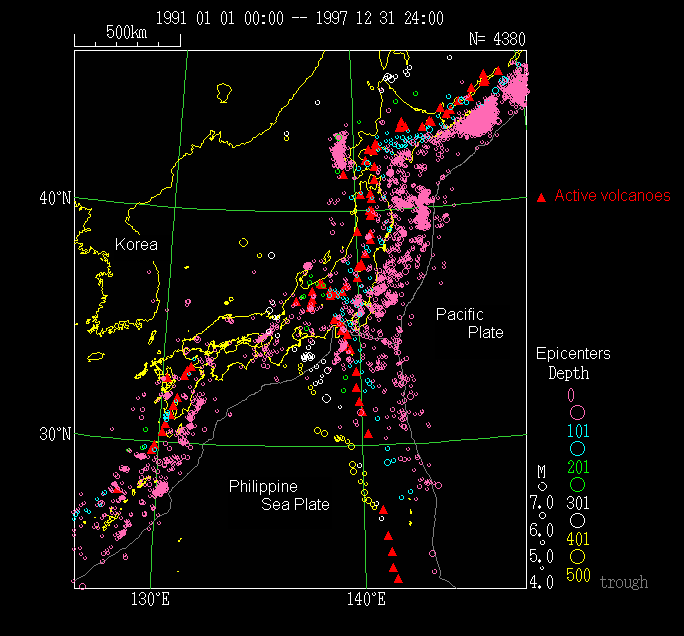 Location of active volcanoes and seismicity (M>4) in Japan